Welcome to the home of Ulverston Town Band on the internet.
We have been bringing music to the South Cumbria area for over 160 years.
Next Engagements
March

Sunday 18
th
March– South Cumbria Music Festival, Coronation Hall - Ulverston.  Early evening
Saturday 14
th
April – RAF association concert. Barrow British Legion, Holker Street.  8pm start 

April
Saturday 21
st
April – St Georges day event, Market Cross - Ulverston
Sunday 22
nd
April – St George's Day Parade. Barrow. Meet at Barrow Town Hall 11.30am, parade leaves at 12 noon
Latest News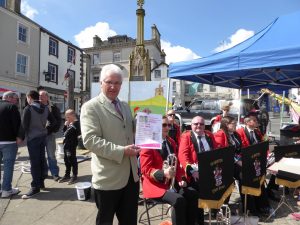 Ulverston Town Band has been in existence for over 165 years. The earliest documented performance of the band was from the laying of the foundation stone to commence the building of Hoad Monument in 1850.

As in 1850 the band still plays a major role in the life of Ulverston and can regularly be heard and seen performing concerts in and around the town throughout the year and supporting the various town festivals and civic occasions.

Our current uniforms were renewed in 1996 following a successful bid to the national lottery. With changes in band members we are struggling to ensure everyone has a suitable uniform jacket.
We have managed to raise over £4,000 from generous donations from various local groups and money we have raised ourselves through concerts and other events (including running in the Hoad marathon) but we still need another £2,000 to allow us to renew all the uniforms.